This is the first in a series of articles where we will look at the state of architectural visualization in 2020 and review some of the products and workflows we use in the studio.
As an Architecture Studio focused on Technology, we work with a plethora of visualization techniques and workflows. These can be simple sketches that convey a big idea, to collages where we mix hand drawn sketches and digital tools like the iPad or Adobe Photoshop and Illustrator. We also use Archicad BIMx models that allow our clients navigate in virtual architectural projects or 3D Documents that are 3D Vector drawings that communicate details about a specific space. We also pride ourselves in implementing new workflows in VR/AR and new ways to communicate our ideas.
But perhaps, the zeitgeist of architectural visualization in recent times have been photo-realistic renderings. Photo-realistic renderings have become ubiquitous with the profession of architecture with more and more clients demanding these from the very early stages of conceptual design. One could argue about the pros and cons of these modes of representation but one thing is clear, for an architecture firm to be relevant in 2020, they need to be able to produce clear, concise and most importantly visually engaging visualizations to get the commission, win the competition or attract the best talent.
Visualization has always been a core aspect of the AEC Industry. As architects, we have been trained to study and design buildings using plans, sections and elevations but these often seem too abstract for a non technical person like the client or other stakeholders in a construction project. For this reason, architectural visualization techniques have been the language to communicate our designs before they are built since the beginning of architecture itself. This allows you to bring different elements such as acrylic ceiling panels among other aspects together to form a whole image of what the outcome will look like.
From the ancient Pharaohs of Egypt and Popes of Rome to the board of WeWork or a regular family of four, architects have been tasked with telling a story that we can all understand. In essence, one can study the history of technology in architecture by looking at the development in visualization techniques. This helps us contextualize where we are right now, how we got here and what's the way forward.
A brief history of Architectural Visualization
Buildings have been visualized and designed since before they've been built. The Egyptians, Greeks and Romans were building the pyramids, colosseums, large temples and even cities. The methods they used to communicate their ideas had the same intention as the architects of today, they relied on different pigments and mediums to achieve an aesthetic worthy of their respective monarchs. But this was before the discovery of perspective to represent realism, so the drawings were flat and void of any experiential properties.
15th Century: Filippo Brunelleschi's Linear Perspective
Recognized as the first modern engineer, planner and sole construction supervisor responsible for building Florence Cathedral's Santa Maria del Fiore dome and known as one of the founding fathers of Renaissance. Although drawing in perspective seems to be a conceptual idea, make no mistake, this was 'invented' and was a huge scientific breakthrough that impacted architecture, engineering and the arts at the time.
16th Century : Leonardo DaVinci's anamorphosis perspective
A technique he developed while surveying the town of Imola for cartographic purposes and later deployed while painting the Mona Lisa (you can read more about this revolutionary idea here.
Over the next few centuries, the propagation of these Italian techniques through art and design enabled architects and builders around the world to communicate their designs. Expensive and time consuming sculptures and maquettes (scale models) could easily be replaced by hand renders and sketches saving valuable time and money and increasing the efficiency of architectural process.
19th/20th Century : German Bauhaus and Modernism
As the world was ushering in huge technological developments thanks to the industrial revolution, a new movement was taking shape in the arts, Modernism, focused on expressionism and tectonics, a simple assembly of lines and volumes moving away from ornamentation that was the norm at the time. Designers like Walter Gropius and Le Corbusier were finding new ways to communicate not just the 'what' but they 'why' and 'how' aswell. There were new ideas about functionality, program and productivity, hand renders and perspectives weren't enough for architects to communicate these ideas. We needed something more abstract that conveys greater information about relationships, assemblies and habitation, this led to the propagation of diagrams and axonometrics, they were more abstract than perspective renders but conveyed more abstract ideas about the space rather than showing the space itself. This shift from visualizations at the human scale to axonometric drawings seen from above paralleled their design philosophy by shifting towards the idea of buildings as objects, as a "machine" to be dissected.
Mid 20th Century : Collages & Photo-montages
In the 60s, influenced by counterculture movements at the time and enabled by widespread print media, radical groups like Archigram and Superstudio began using collages, photography and juxtapositions of images to convey their radical ideas, sampling images and textures from the print media like magazines, comic strips and graphic text. These were revolutionary, cautionary, dystopian and utopian at the same time but more than ever before, they were engaging and resonating with normal people who could understand the big ideas offered. These ideas made celebrities of these young architects and a lot of their ideas have propagated into the big architectural ideas of today.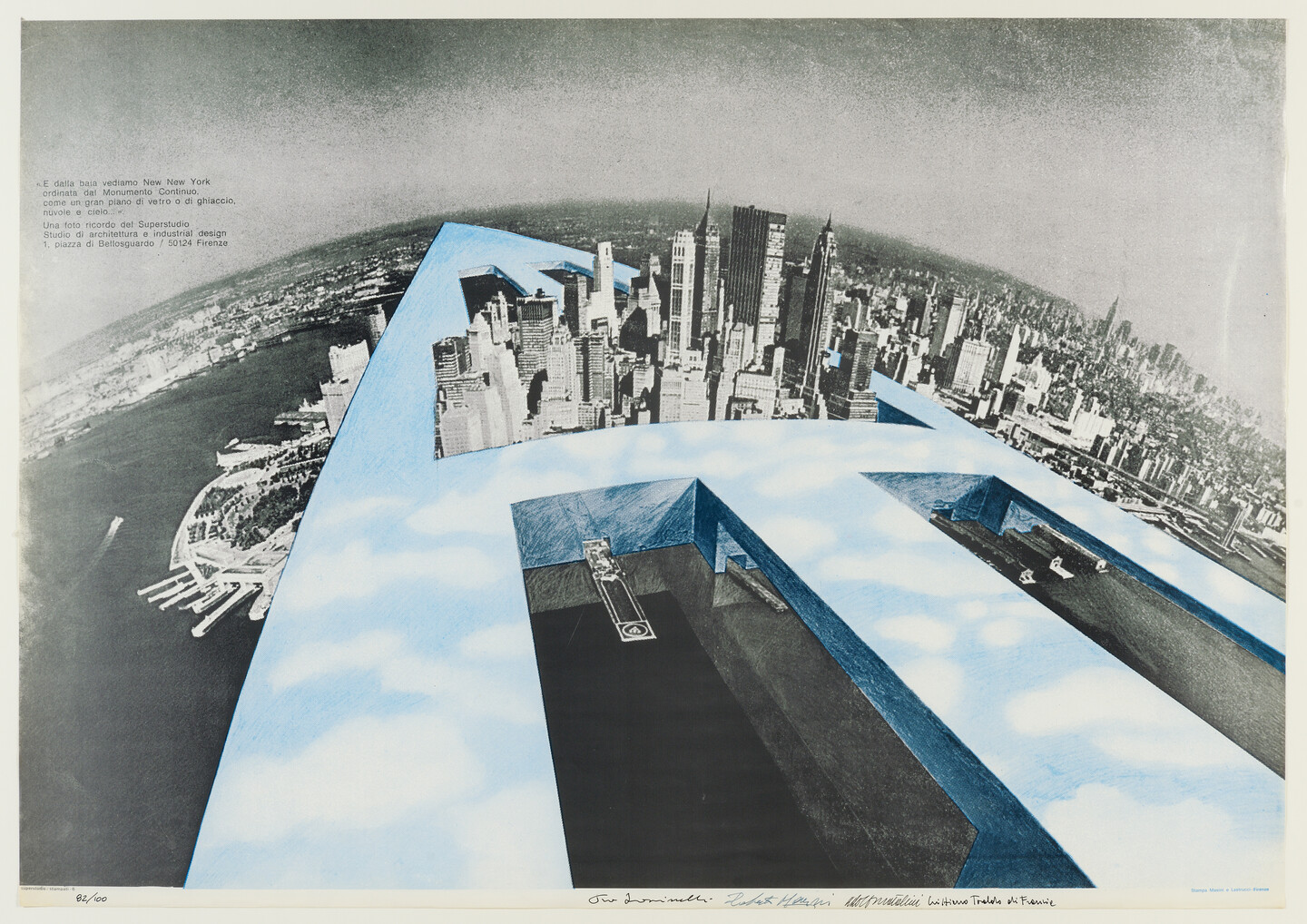 1980s-1990s : CAD, Deconstructivism & Photorealistic(ish) rendering
The 80s and 90s are synonymous with another big revolution of our times, computing. While the Bill Gates and Steve Wozniaks of the world were bringing computing to the average person, companies like Graphisoft, Adobe and Autodesk were bringing the power of computing to architects and designers. This was a fundamentally different way of working for architects that were used to their drawing boards and T-squares. Gone were the days where a group of draftsmen would painstakingly work on production drawings at an architecture firm, early adapters of computing in design could work with far more efficiency and flexibility. But as always, there was a core group of architects, who were leveraging computational power and drawings as a means towards procedural design. The Deconstructivists like Zaha Hadid and Peter Eisenman were leveraging computers and abstraction to question design processes and design spaces that were unthinkable before computers.
2000s: Arrowism / Spread of photorealism
By the 2000s, Architecture firms like Zaha Hadid Architects, UN Studio, OMA, Eisenman Architects, MVRDV and Foster & Partners were already well established names in the world of Architectural Design, they were leveraging the power of computation and data to work in ways that were smarter and more efficient. A big part of their success was thanks to Photorealistic Rendering Software that produced beautiful imagery that empowered their projects. But this was also the time when 2 young architects, Bjarke Ingels and Julien De Smedt working under the name PLOT started to win some prestigious commissions and competitions. They had a unique approach to abstraction, most of their ideas were communicated through a series of arrow diagrams that shaped the built form. This simplicity of arrowism was striking, simple and perfectly executed. This trend came to a full swing with new projects in Asia where practitioners appropriated this method of communication.
2010s : Advances in Computing, Data, AI / Dominance of photorealism
By the 2010s, due to advances in computational power, a presence of digital infrastructures like Environmental Analysis Tools, GIS, Cloud Computing and the propagation of 3D Modelling software like Sketchup, Rhino3D, Archicad and Revit, architectural design was becoming more and more integrated. This means that most architecture firms are expected to be able to whip out stunning photorealistic renderings of their projects. For firms that do not have these capabilities, there's thousands of visualization studios that can help them deliver their vision. Alongside this, new softwares like Lumion, Twinmotion (link) and Enscape (enscape3d.com/)are allowing architects with very little technical knowledge of shaders and lighting calculations to produce stunning images with very little resources and intuitive workflows. More recently, there's an intention to engage more with Augmentation Software and Hardware and move to a more immersive form of visualization that is dynamic (as opposed to still imaging), immersive (using HTC Vive, Oculus Rift, Google Cardboard, etc) and interactive bringing in aspects of Hollywood style cinematography, green screens, holograms, and projection mapping. One might argue that our imaging capabilities have become so good that it's often very hard to understand if an image is generated computationally or a photograph of a built project.
2020 : Digital Pipeline [AR / VR / MR / Augmented Construction / Cloud Computing / AI / 3D Printing / IoT]
As we move into 2020, Computation has well and truly revolutionized the way we conceive, conceptualize, design, represent, visualize, build and interact with architecture. Parameter based (Parametric) procedural models of buildings these days mean that our workflows are lean, we can test thousands of variations of space, materiality and program and everything else can be automated. From the production of Architectural Drawings and Visualizations to working out quantities, even augmenting construction on site. These workflows are symbiotic with news ways of production and fabrication, whether it is 3D Printing, CNC Milling, Laser Cutting , using Robotic Arms or programmed materials, everything is controlled to micron scales and tolerances. Along with these significant developments, a lot of young architects these days, like us at Enzyme have an understanding of code, how these software are built and what goes on under the hood. This allows us to create new solutions to problems that we face everyday.
References:
http://monalisa.org/2013/12/15/genius-leonardo-da-vinci-perspective/
https://www.citylab.com/design/2016/04/this-old-map-da-vinci-imola/479493/
https://www.ths-concepts.co.uk/architect-spotlight-leonardo-da-vinci/
https://bsbgroup.com/blog/why-architects-use-architectural-visualisation/
https://www.easyrender.com/architectural-visualization/a-brief-history-of-architectural-visualization
https://globalfirstsandfacts.com/2018/11/07/filippo-brunelleschi/
https://www.wallpaper.com/architecture/bauhaus-international-style-timeline
https://www.archdaily.com/894662/from-romantic-ruins-to-the-ultra-real-a-history-of-the-architectural-render?ad_medium=gallery
https://www.archdaily.com/399329/ad-classics-the-plug-in-city-peter-cook-archigram
https://www.patrikschumacher.com/Texts/digitalhadid.htm